COURSE HIGHLIGHTS
Attend classes at any day, any time with no batch commitment
Experience 1-1 training in a classroom environment
Learn from experienced native faculty
Obtain internationally recognized certification at the end of every level
Learn with CEFR compliant study material
Have total cultural immersion while you learn
OUR SPANISH LEVELS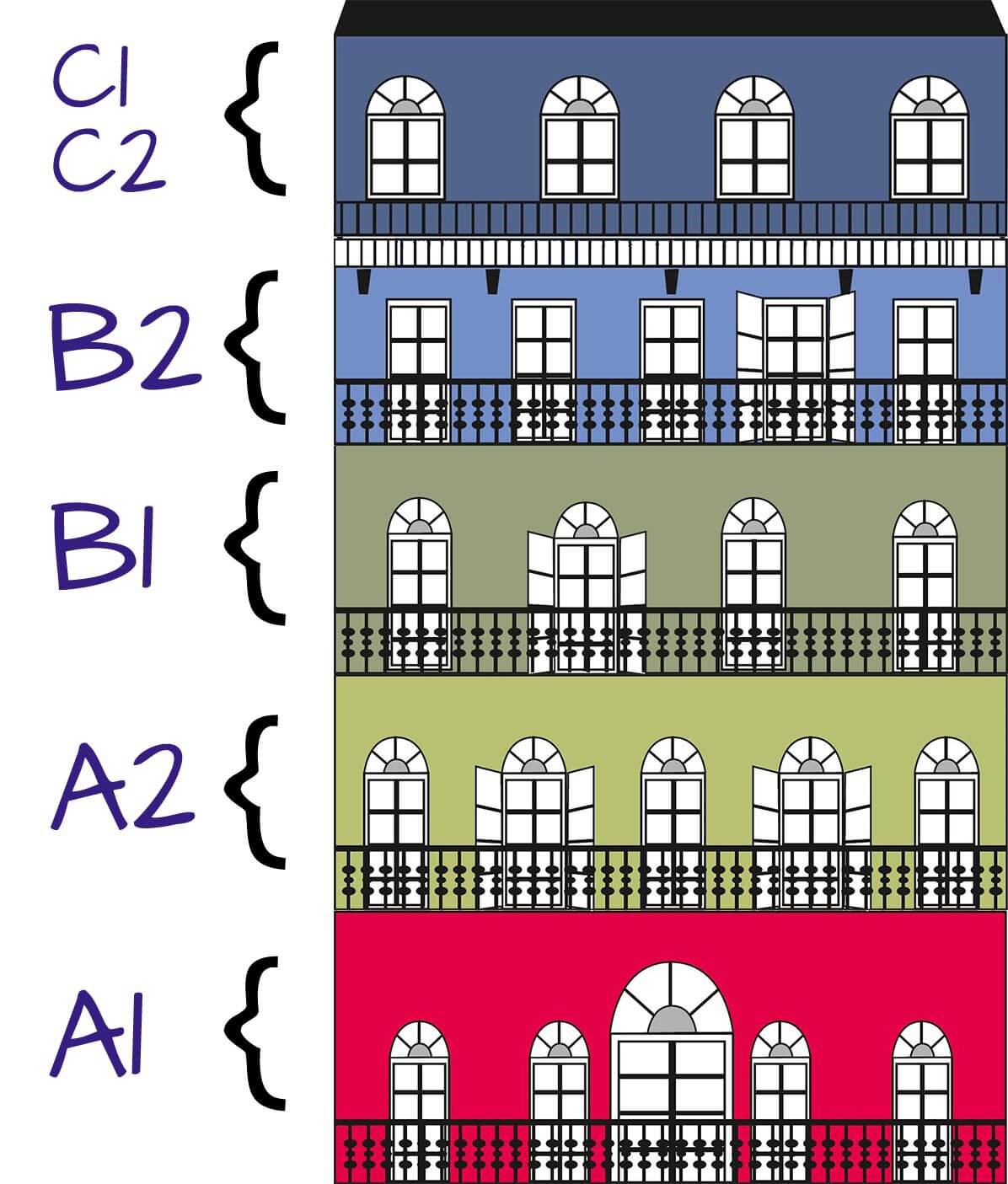 All our programs are based on the Common European Framework of Reference for Languages. At Academia de Español, we think of Spanish as a six-floor building. Our exclusive 'Casa' program is based on the idea that every linguistic item is held together by the others. In this way, learning a language is like building a house: an architect cannot build a new floor if the one below is not finished. The CASA Program distinguishes 6 very refined levels tied into the 6 floors of a building. At the end of each level, an exam is conducted to gauge the student's performance so as to advance to the next level.

ADVANCE CERTIFICATE (C1-C2)
By the end of this course the candidate is able to interact with native speakers with a good degree of fluency, hence enabling natural communication amongst each other. The candidate is able to translate, sub-title and interpret texts from Spanish to English and vice-versa fluently, provided they are within the candidate's area of expertise.

INTERMEDIATE CERTIFICATE (B2)
By the end of this course the candidate is able to read, write and speak Spanish in all seventeen tenses. Here, the candidate is able to communicate with an advanced degree of fluency alongside developing greater understanding at an academic level.

INTERMEDIATE CERTIFICATE (B1)
By the end of this course the candidate is able to read, write and speak Spanish in eleven tenses. Here, the candidate is able to understand the gist of academic texts, deal with most travel situations in Hispanic countries and briefly explain opinions or plans.

BASIC CERTIFICATE (A2)
By the end of this course the candidate is able to read, write and speak Spanish in five tenses. Here, the candidate is able to express familiar concepts & read, write general texts of personal interest.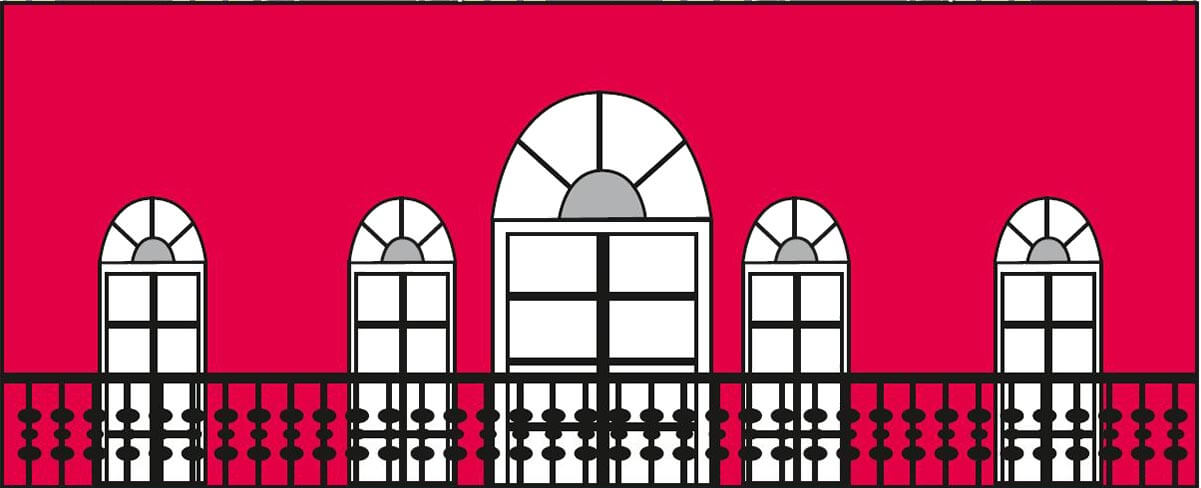 BASIC CERTIFICATE (A1)
By the end of this course the candidate is able to read, write and speak Spanish in the Present Indicative Tense and the Present Continuous Tense. Here, the candidate is able to communicate using the language in a basic way in circumstances concerning immediate needs and day to day situations as a tourist.
How it works
AE is India's first and only personalized training school where students can experience fully immersive one-on-one teaching at their handpicked days and timings throughout the week, including the weekends. Students can telephonically book their preferred 1.5 hour time slots on a weekly basis for the in person lessons at our schools in Andheri, Bandra, Thane or Chembur. This organizational structure enables students to attend the in person classes with our teachers at any time between our opening hours, i.e. 10am to 7pm from Monday to Saturday and 10am to 2pm on Sundays. Can't get any better, right?!
How long does each lesson last?
Each lesson is timed to last 1.5 hours. However, this may vary ever so slightly depending on the student's pace and rhythm of learning. Maximum lesson time per class is of 2 hours.
What if my preferred time slot is already booked?
We got you covered, bud! Our team of experienced trainers (6 trainers per school) are available for one-on-one lessons throughout the school opening hours, which ensures students do not have to be on a waitlist to take lessons at their preferred days and timings. At AE, you're only keeping up with your schedule and no one else's.
Our classrooms are spacious and fully equipped with seating that ensures multiple students can take lessons at the same time with different teachers. This way, you get the full classroom experience without the hassle of keeping up with a fixed class schedule or the fear of missing out on the syllabus covered if you miss a class. Check out our school pictures
here
or take a
virtual tour.
Will I always get the same teacher?
Our trainers work in 3 day shifts (Monday, Wednesday, Friday) and (Tuesday, Thursday, Saturday, Sunday) at their assigned school locations throughout the week. Hence, it is not necessary that you may be assigned the same teacher every lesson. However, if you'd like to learn from the same teacher and feel more at ease with a teacher in particular, we recommend choosing your lesson days between either of the two schedule combinations mentioned above, which are 1.5 hour slots on Monday, Wednesday, Friday or Tuesday, Thursday, Saturday, Sunday. All our courses are designed to be fully immersive with trainers covering all six learning components every lesson, i.e.  Listening, Speaking, Reading, Writing, Grammar and Culture.
Our course books serve as teaching guides for trainers and ensure you never have to explain to a teacher what you have covered in the last lesson, since each lesson for each level is perfectly structured and programmed with utmost precision. This means that just flipping a couple pages on your course book will help the trainer know exactly how much you have covered so far and what comes next. This way, you not only get total flexibility to learn the language at your pace but also the opportunity to interact with multiple native speakers of the language throughout your course, because at AE, there's something to learn from everyone.
Course Duration
Our courses emphasize more on the curriculum to be covered than on the hours taken for completion. Each student is differently paced based on a number of factors such as their attendance frequency, revision and homework completion and other commitments along with their grasping of the language. This means that it would be practically impossible to gauge exactly how much time each student will complete each course in.
Nonetheless, with our experience, we can affirm that students generally take about 50 to 60 hours to complete each level. Since this is a one-on-one training school, there is no fixed start and end date to the course. However, students are given a maximum of 6 months from the date of enrolment to complete each level. Since each class lasts 1.5 hours and students can choose to take lessons once, twice, thrice or four times a week, the approximate course duration per level will be between 2 and 4 months.
Approximate completion time frames as per attendance frequency are below:
1 session per week – 4 months per level
2 sessions per week – 3 months per level
3 sessions per week – 2 months per level
Students must know that there is no fixed number of hours or classes that they are confined to, which means that if they need more practice or don't feel confident with a certain topic, they can always recap it in class with our teachers and spend some time in our library with additional resources to build the perfect language base. It's different at AE, because we want you to speak Spanish, not just learn Spanish.
START DATES
Since we are a one-on-one training school, registrations are open throughout the year and you can get started with your lessons at any day and time during the year between our opening hours.
AGE GROUP
At AE, age is no barrier and our personalized, one-on-one lessons alongside our curriculum are both designed to train students of all ages, between 10 and 75 years.
Check out some of our student photos
here
, to help trigger inspiration and get started!
Take a look at what a typical class day at our school looks like below!
OUR TEXTBOOKS
Our books have been written as a teaching tool by our founder Mr. Dinesh Govindani, who has extensive knowledge of the language given his experience of over 25 years in the field of teaching. They are specially illustrated presentations comprising of various dialogues based on natural situations with grammar modules and practice exercises, all bound within a creative context. "Español Hecho Fácil" (Spanish Made Easy) is a series of textbooks ideal for teaching Spanish to students of all levels.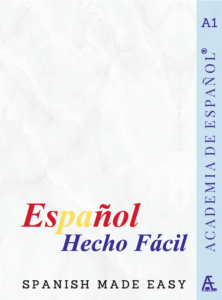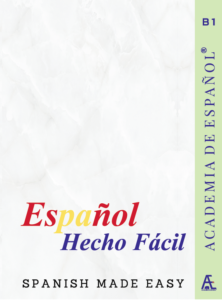 OUR TEAM
At Academia de Español we are trainers that are passionate about education. Our academic team comprises of tutors that are native speakers of the language and actually love to teach and take pride in the progress of their students. They are carefully selected to ensure their values and methods match ours.
The academic team constantly stays updated on current best teaching practices and the latest teaching methods. In addition to their many years of experience, our faculty is dynamic, open-minded, friendly and incredibly motivated. Trainers are selected based on their training, inter-personal skills, patience and – most importantly – their passion for teaching.
OUR LIBRARY
Students studying at an Academia de Español centre have complete free access to our libraries with more than 1,000 books including text books, story books, dictionaries, grammar books with various exercises and many more. We also have a video tech library with more than 20 different interactive programs which can be used with a PC at our premises. These serve of great help to students looking to grasp more knowledge of the language or also to stay in touch with Spanish even after their learning is complete.
Next, we have a vast collection of media, with more than 150 Movies, 50 Music CD's and other audio-visual aids to help our students familiarize themselves with the Spanish culture and accent.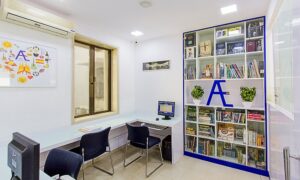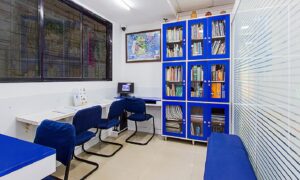 Our Schools
Students can register for all levels through our enrollment page or at our headquarters in Andheri (W) and at our branches in Bandra (W), Thane (W) and Chembur (E) in Mumbai. In Andheri, we are at a 15-minute walk from the Andheri railway station and right next to the Azad Nagar Metro Station. In Bandra, we are at a 10-minute walk from the Khar and Bandra west railway stations. Our school at Thane is at a 10 minute walk from the Thane Station at Naupada and very close to the Naupada Telephone Exchange. In Chembur, we are at a 10-minute walk from Govandi Station and a 5 minute walk from Deonar Bus Depot.
We also offer e-learning and live online courses for all levels of the CEFR, for students residing outside of Mumbai. In case these interest you, all the relevant information can be found here.
Our Certification
Academia de Español being an accredited examination center of the F.I.D.E.S.C.U (Fundación para la Investigación y Desarrollo para la Cultura Española) conducting the D.I.E (International Diploma in Spanish) examination and the SIELE Foundation by the Instituto Cervantes since 1998, our certification is globally accepted and can be presented to formal educational entities for students who want to continue pursuing the language abroad or apply for employment nationally or internationally. In order to obtain an international certificate, students will need to go through a written and oral exam at the end of each level. Having scored 60% or more, a certificate will be issued. Click here to verify your certificate by Academia de Español.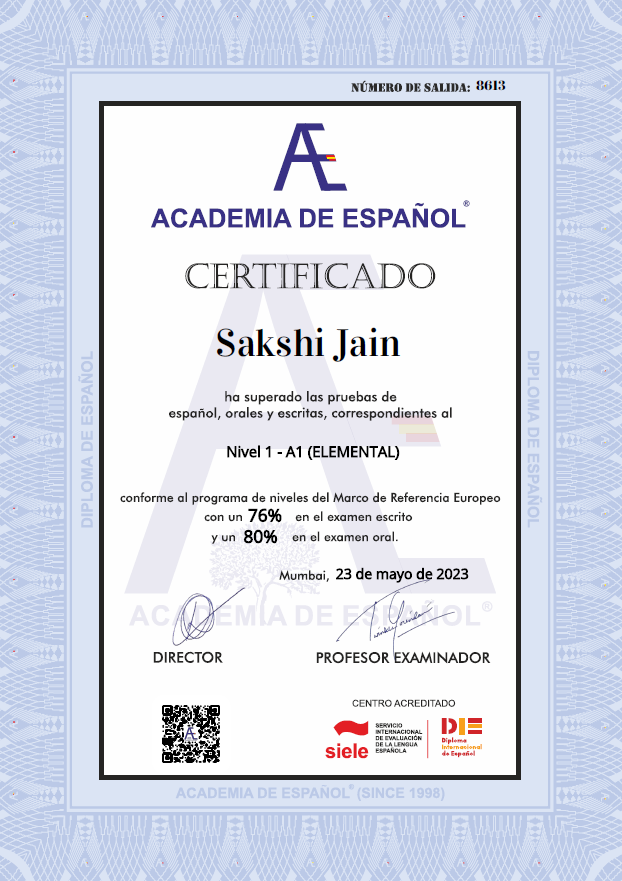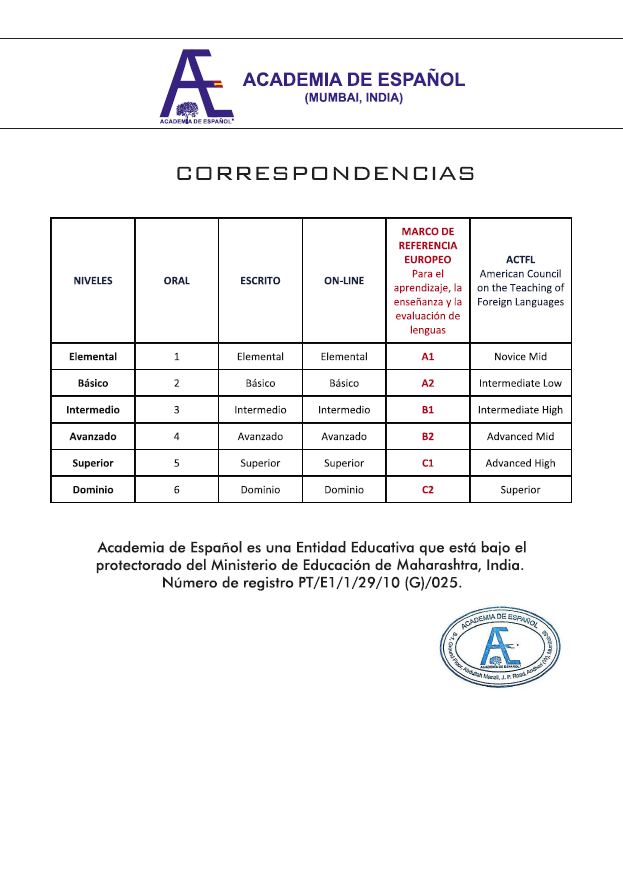 Fee Structure
One-on-one training for each level at our centres costs ₹15,000 inclusive of the study material, examination fee and international certification.
To speak to a representative and discuss your language needs in detail, feel free to contact us here, or fill the contact form to arrange a call from a school counsellor closest to your location. ¡Nos vemos en clase!