PINO OJEDA FT. ACADEMIA DE ESPAÑOL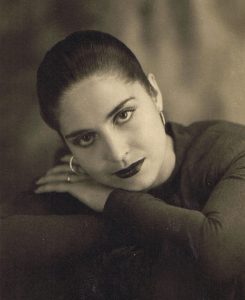 Pino Ojeda, born on 17th August 1916 in Las Palmas de Gran Canaria was an award-winning Spanish writer and plastic artist who spanned the field of novels, poetry and painting.
She was the first woman to found an art gallery in the Canary Islands and signed as PinOjeda. Ojeda is considered one of the forerunners of abstract art in the Canary Islands. During her career as poet and artist, Pino has authored over one hundred poems and has painted over 2,000 paintings, several of which are displayed in national museums all over the world.
The Fundación Canaria Pino Ojeda, a foundation established by her grandson Domingo Doreste Silva and funded by the Cabildo de Gran Canaria, aims at diffusing Pino Ojeda's contribution to the world of art and poetry through delegations across the globe. The Fundación Canaria Pino Ojeda has recently partnered with the Academia de Español in India, with the goal of making her work recognized among the Indian community. The Chembur branch of the AE schools is now the oficial delegation of the Fundación Canaria Pino Ojeda in India and exclusively holds several of her original art and literature masterpieces available to the public for those enthusiastic to know and study more of her.
For this very purpose, the foundation, with the support of the Academia de Español will be translating several of her literature masterpieces to Hindi, thus enabling the diffusion of her exceptional and forward thoughts amongst Spanish literature enthusiasts in India. The Hindi version of her books is set to be published and released in India in early 2024 and will be available at local stores nationwide soon after its release.
For those that would like to know more about Pino Ojeda and her work, a brief introduction on the most celebrated aspects of her career is below. To know more on her and experience the magic of her art and literature, we recommend students to visit the Chembur center of the AE schools.
Career
Literature
Pino Ojeda married Domingo María Doreste Morales in 1938. She began writing poetry after her husband's death in 1939, during the Spanish Civil War. This circumstance led her to create an intimate literature that transits the themes of loneliness, heartbreak, the passage of time, death and hope. ​
The poetic career of the writer from Gran Canaria began in 1940, in the Tenerife magazine Mensaje, directed by Pedro Pinto de la Rosa, where she published some of her poems. In addition, this magazine published her first book, Niebla de sueño, in 1947. However, it was in 1953, the year in which she won the First Runner-up in the Adonais Prize with her collection of poems Como fruto en el árbol together with Pilar Paz Pasamar for Los buenos días (published in 1954), when she began to be recognized nationally, performing readings and recitals in cities such as Madrid and Barcelona, where she established bonds of friendship with other Spanish writers of the post-war period.
In 1952 she created Alisio. Hojas de poesía, a magazine that saw the light until May 1954, and in which authors of the time published, such as Juan Ramón Jiménez, Vicente Aleixandre, Carmen Conde, Gerardo Diego, Pedro Salinas, Gabriel Celaya, or the painter and illustrator Juan Ismael; All of them, friends of the author with whom she maintained epistolary correspondence and collaborated in readings and recitals in different cities of the national territory.
In 1955, with La piedra sobre el camino, she won the third prize for poetry Tomás Morales. In 1956 she received the Tomás Morales Prize with La piedra sobre la colina, a poem divided into twelve rooms published in 1964. In 1987 appeared El alba en la espalda, a book in which he reviews her life; and in 1993, El salmo del rocío, a book of poems that won the First World Prize for Mystical Poetry, convened by the Fernando Rielo Foundation, in 1991. Árbol del espacio (2007), illustrated by Plácido Fleitas and Juan Ismael, was published posthumously.
Her work is included in several anthologies: the one made by Carmen Conde, Poesía Femenina Española Viviente, in 1954; the one carried out by Maria Romano Colangeli in Italy, entitled Voci femminili della lirica spagnola del 900 (Female voices of the Spanish lyric of the nineteenth), in 1964; or the one made by Louis Bourne in a bilingual edition, Contemporary Poetry from the Canary Islands (selection and introduction by Sebastián de la Nuez Caballero) in 1992, among others.
Ojeda has been translated into Swedish, Italian, German, English and French. She participated in magazines of national and international projection, such as Poesía Española (Madrid), Estafeta Literaria (Madrid), Revistart (Barcelona), Caracola (Málaga), Al-Motamid (Tetuán) or Profil Littéraire de la France (Belgium, directed by Henri de Lescoët), to name just a few. In early 2024, her poetry, translated to hindi will release in the Indian market.
Unpublished Works
Most of her poetic work remained unpublished, preserved in the house where she lived her childhood in El Palmar de Teror (Gran Canaria), until the publication of the anthology Yo seguiré aquí. Poesía inédita (1946-2001), collected and edited by Blanca Hernández Quintana and Fran Garcerá. Among these unpublished books, there were 22 collections of poems, among which are: Quiet quarrel (selected for the Adonais prize of 1951), The new shoots (1952), Kaleidoscope of tedium (1952), Solitude and time (selected for the Adonais prize of 1952), Sixty poems of love and faith (1954, poems in prose), Forty poems (1954), Thirteen words to God (1954), Naked as the Angel (1955, some of whose poems were published in magazines), Ocho poemas. Semana de pasión (1959), Elegies (1964, some of them published in magazines), Cancionero para José María Cossío (1978) and Pájaros del mismo plumaje (1979).
The novel Con el paraíso al fondo (selected for the Nadal Prize in 1954) and finally published in 2017 was also preserved unpublished; as well as numerous stories, among which it is worth mentioning: "Rupícula y Tucán" (1947), "Lucky cada día hace su guardia" (1953), "Dos perros desengañados" (1953), "Maspalomas" (1954) or "El héroe o Diálogo de los tres niños en la Isla de San Pedro" (1954).
She also cultivated the dramatic genre, with a dozen works that were never published and among which titles such as Morir solo una vez (1950), El río no vuelve atrás (1951), El cuadro del niño dormido (1953), El hombre que se queda en la guerra (1953) and El gran cobarde (1954) stand out.
Plastic Arts
Pino Ojeda combined her literary side with the plastic arts. In the pictorial field, the author exhibited her work in countries such as the United States, Switzerland, Sweden, Germany, France and Italy, making individual and collective exhibitions, itinerant and permanent, in museums and galleries. She is considered one of the forerunners of abstract art in the Canary Islands.
In 1947 she entered the Luján Pérez School, although several years had passed since she began to paint. In 1955 she exhibited for the first time her pictorial work in the 3rd. Hispano-American Art Biennial in Barcelona. Two years later, the first anthological exhibition of her pictorial work was held at the Institute of Hispanic Studies of Puerto de la Cruz, in Tenerife. In the fifties, the painter founded the Art Gallery on the beach of Las Canteras, dedicated exclusively to the exhibition and sale of works by numerous artists; and in 1959, she exhibited her work at the Bibliothèque Nationale de Paris.
In 1960, she entered the Municipal Academies of Las Palmas, with the aim of perfecting her drawing. In 1961, she exhibited with Grupo Espacio, being one of its founders. The following year, she received the First Prize in the National Contest of Plastic Arts for her work "Walled City". In 1964 she exhibited in Mallorca, at the Grifé & Escoda Gallery, in whose catalogue Camilo José Cela presented the work of Pino Ojeda. That same year, she also exhibited at the Sala Club Pueblo, in Madrid. In 1965 he highlighted the exhibition of the work of Pino Ojeda at the Ateneo de Barcelona and the Syra Gallery.
The following year, she received the First Prize for Painting at the 12th Regional Exhibition of Fine Arts, for her work "Serenidad", in the Gabinete Literario de Las Palmas de Gran Canaria. In 1972, Pino Ojeda exhibited her works at the St. Paul Gallery in Stockholm, Sweden. The following year, she exhibited at the Giorgi Gallery in Florence, Italy. Between 1973 and 1975, she studied at the Escuela Superior de Bellas Artes in Las Palmas de Gran Canaria, and began her ceramic studies with the master Eduardo Andaluz.
In 1975, she held her exhibition at the Margherita di Porto Potenza Gallery in Italy. A year later, she exhibited at the Luciano Berti Gallery in Bern, Switzerland; and in 1977, she did so at the John W. Allen Gallery in Florida, United States. The following year, she exhibited at the Hans Kramer Gallery in Freiburg, Germany. In 1980 her 2nd Anthological Exhibition was held, at the inauguration of the Maltese Gallery in Las Palmas de Gran Canaria. Between 1980 and 1983, her temporary disability only allowed her to work on small-format works, and on her psychic drawings and collages. In 2000, the 1st Exhibition of "Pioneers of Canarian Art: Lola Massieu, Jane Millares, Pino Ojeda" was held at the Casino of Las Palmas de Gran Canaria. In 2001, the 2nd Exhibition "Pioneers of Canarian Art" was held at the Municipal Museum of Arucas.
She died on August 27, 2002.
Literary work
Poetry
Niebla de sueño. (Ediciones de la revista Mensaje de Tenerife, 1947).
Como el fruto en el árbol. Accésit Premio Adonais 1954. (Ediciones Rialp).
La piedra sobre la colina. (Tagoro- Imprenta Lezcano, 1964).
El derrumbado silencio. Versos del exilio (1971). (Canarias eBook, 2017).
El alba en la espalda. (Ediciones Torremozas, 1987).
El Salmo del Rocío. (Fundación Fernando Rielo, 1993).
Árbol del espacio. (Dirección General del Libro, Archivos y Bibliotecas del Gobierno de Canarias, 2007).
Novel
Con el paraíso al fondo. (Las Palmas de Gran Canaria, [1954] 2017)
Anthology
Antología poética. (Canarias eBook, 1997).
Obra poética (Ediciones del Cabildo de Canarias, 2016).
Más allá del silencio. Antología poética. (Ediciones Torremozas, 2018).
Yo seguiré aquí. Poesía inédita (1946-2001). (Ediciones Torremozas, 2022).
Awards
In 2000 she was granted the title of Adopted Daughter of the City of Las Palmas de Gran Canaria.
In 2001 she was named Favorite Daughter of the municipality of Teror.
She was awarded the Can de Plata of the Hon. Cabildo Insular de Gran Canaria.
It has a bronze bust, made by the sculptor Teo Mesa, in the Auditorium of Teror.
In his birthplace, Teror, there is a street named after her.
The City Council of Las Palmas de Gran Canaria named one of its streets in the neighborhood of La Galera, Tamaraceite-San Lorenzo-Tenoya district, with her name. Pino Ojeda Street (painter-poet).
In 2018 she was the protagonist of the "Day of Canary Letters", receiving several tributes that highlighted the quality of her work, despite the little diffusion it had had.
In 2020 the City Council of Guía de Isora named one of its streets after her.
The Institutes of Secondary Education, IES Teror (2021), IES Mesa y López (2022) and IES Pablo Montesino (2022) have renamed their libraries with the name of Pino Ojeda.