Our Service Offerings
Founded by Dinesh and Vidya Govindani in 1998, Academia De Español is a premier Spanish training institute catering to the needs of companies within an enormous array of fields including pharmaceutical firms, education as well as digital media. Academia De Español provides translation, interpretation, corporate language instruction, dubbing and supervision as well as business networking services.
Our founders being native speakers of Spanish, French and English, have been teaching Spanish for over 20 years in different parts of the world, including Spain and India, making them highly experienced and knowledgeable within the field.
Dinesh Govindani (DG), one of our founders, was born in Spain and is a native speaker of Spanish, French and English. DG has been teaching Spanish for over 20 years in different parts of the world, including Spain and India.
Vidya Govindani, our co-founder, has vast experience in teaching Spanish, as she has resided in Spain for over 15 years and has been teaching since over a decade.
Twinkle Govindani, having graduated from Las Palmas de Gran Canaria, Spain and having pursued a Masters in Spanish Training from Salamanca has acquired immense knowledge and expertise in corporate language instruction, translation as well as Interpretation.
Navin Govindani, a native who has studied at Universidad Pontificia de Salamanca, Spain has excellent command over the language and caters to the firm's varied needs including Translation, Interpretation, One to one teaching sessions as well as dubbing.
For companies in India looking to tap into the lucrative Spanish and Latin American market, we at Academia De Español provide translation, interpretation, corporate language instruction, and business networking services.
Corporate Language Instruction
With over 20 years of experience as an accredited Spanish language instructor, and having taught in several countries including Spain and India, Dinesh Govindani has extensive experience in teaching Spanish to individuals & extensive groups.
We at Academia De Español offer to resolve communication problems to ensure a smooth trade between your company and the Latin American companies. Established in the year 1998, by Dinesh Govindani, a Spanish national, & Co-founder Vidya Govindani, Academia De Español was born as a Spanish language training institute but has grown a lot since then. Today we offer Spanish Corporate Training, Business Spanish courses, Spanish translation, interpretation, and networking services.
With over 18 years of experience in providing translation and interpretation services, we understand the rate at which Indian Corporate Companies are growing with their exports to Latin America and believe that our know-how can help speed things up by solving communication obstacles and lifting language barriers.
Academia De Español is the one-stop shop for all your Spanish-related needs. We can help you translate your emails and other forms of correspondence to & from Spanish, as well as assist your calls, web chats with Latin American clients. We can also help you translate your website, brochures and other content. We can also offer Spanish tutoring to your employees at your company's premises.
The teaching technique of Academia De Español has been implemented at several prestigious institutions in Mumbai such as at Bombay University (Kalina), the British Institutes, NMIMS (Narsee Monjee Institute of Management Studies), SCOFEL (Study Center for Foreign Languages), Mithibai College and École Mondiale-World School.
Spanish in Educational Institutions
We offer special Spanish Courses for schools and colleges with IB, A Levels, ICSE, IGCSE, etc.
Schools nowadays offer a whole gamut of extracurricular activities to their students, from sports like swimming, basketball to self-defense arts like karate and even music lessons! Everyone knows that these activities are offered to help the students develop a more well-rounded personality which in turn, not only helps them grow as individuals and foster kinship their peers but also forge a strong bond with the institution.
Academia De Español (ADE) offers another extra-curricular activity for your students – learning Spanish.
It is by far easier for children under the age of 15 to learn a new language in comparison to adults. More importantly, it helps them gain a different perspective as they get a chance to glimpse into a whole new world, learn about a distinctive culture; by extension, further connect with their own culture and thus become cosmopolitan individuals. In today's time, it is deemed important to have multicultural ideologies and hence one should not only be aware of the Indian culture but also of a distinctive one and at the same time, learn to appreciate the similarities and the differences.
ADE also raves about its teaching faculty who have all been in-house students at some point and completed their Teacher Training Programs with excellence. Our teachers are often praised for being able to teach even the most complex grammar rules with ease and enriching students with cultural anecdotes that inspire them to learn even more about the language.
Interpretation & Networking Services
For companies, or individuals within companies, that have to interact with their Spanish counterparts, but lack the requisite knowledge of the language to communicate effectively, DG provides extensive interpretation services.
From trade fairs to board meetings, DG has provided interpretation services for companies and councils including the Plastic Export Promotion Council, Ford Foundation, Center for Budget and Policy Priorities, Gem & Jewellery Promotion Council, Engineering Export Promotion Council, Plastindia, CII Indo-American Pharma Meet and way more.
Spanish translations
Fluent in Spanish, French, English and with a working knowledge of Hindi, DG has had extensive experience in translating corporate communications and publications from Spanish to English, and vice-versa; also in dubbing, voice-over work, for movies and documentaries.
He has also worked with companies to translate and subtitle popular Bollywood films over the past few years, to make the movie available to the Spanish-speaking world.
Over the years, DG has done assignments for some of India's biggest companies including RPG, Citibank, TELCO, Glenmark, Wockhardt, Avesta, I Flex, Larsen and Tourbo, Tata, Mahindra and Mahindra, Congnizant, Cipla, Sulphur Mills,Famy Care and Mphasis among others.
Furthermore, DG has significant domain expertise in the industries of pharmaceuticals, information, technology and engineering.
This domain knowledge enables DG to translate difficult technical terms from one language to the other seamlessly. Companies can benefit from this experience, secure in the knowledge that their technical catalogs, user manuals, websites and other industry-specific marketing collateral will be translated effectively and accurately from one language to the other.
Why choose Academia De Español?
Accredited Centre of FIDESCU D.I.E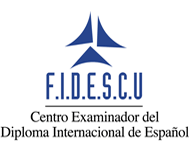 Academia De Español is an affiliated center of FIDESCU and we offer D.I.E. (Diploma Internacional de Español) examinations.
The accreditation by FIDESCU implies that we are eligible to conduct International Certifications for language enthusiasts who wish to test their knowledge in Spanish at the international level.
Education Excellence Awards
Academia De Español once again bagged the award for the "Best Spanish Training Institute" in the year 2014 in Mumbai.
Academia De Español has won the award for the "Most Promising Spanish Training Institute" in the year 2013 in Mumbai.
Our Co-Founder Mrs. Vidya Govindani also won the award for the "Spanish Language Trainer of the Year" 2013 in Mumbai.



Video of the Awards Ceremony
See other videos from Academia De Español
Our Study Material

Academia De Español is one of the few institutes in Mumbai who has its own books, which are also printed by us. These textbooks have been used extensively throughout Mumbai for classes given in institutes as well as for one-on-one tutoring, they have all been authored by Mr. Dinesh Govindani.
Search terms used: